Staged for Success
Posted by Team Hensley on Friday, April 27, 2018 at 8:00 AM
By Team Hensley / April 27, 2018
Comment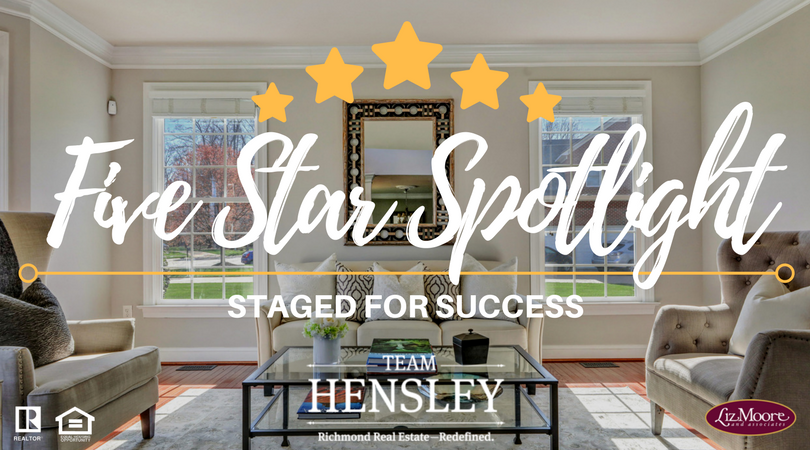 Some of you may remember a time when you found out about Open Houses in the newspaper or you saw a potential home for sale in those magazines at your local grocery store. You may have even drove through neighborhoods every weekend looking for the next "For Sale" sign. Well, the times have changed! Although you may still stumble across the occasional real estate ad in the Richmond Times-Dispatch, chances are that you are starting your home search online. It's how we do everything else now-a-days anyway, right? We shop for clothes, furniture, and even groceries online – even checking our car's value and dealership offerings before we trade our car in. With today's advances in the internet and technology, consumers are more informed and taking on the burden of finding out the facts themselves. The housing market is no different! It also doesn't help that we all feel the pressure of our homes looking like something straight out of HGTV's Fixer Upper…
As a real estate company, this means that it is our obligation to put our client's best foot forward when putting their home on the market. First impressions are everything! With 93% of home-buyers starting their home search online in 2017, 51% actually find their home online. This is a 7% increase since 2016! As our veteran professional stager, Bev Bruster, reminded us, this also includes the out-of-town buyers that are purchasing a home site un-seen. It is essential for our company to adapt to the consumer, so we can better serve our clients. To do this, we utilize many marketing techniques, but it all starts with professional home staging and real estate photography and video.

This week, we have sat down with two of our professional home stagers, Bev Bruster and Ann Pershing of Show Simply Home Staging, to help better explain the purpose and process of staging a home. Let's get to the point – staging sells! As Ann and Bev both point out, the main purpose of staging is to help buyers visualize themselves in the house, as well as help the sellers easily move on. When the seller neutralizes and depersonalizes the decor, they are able to make that necessary disconnect and the buyers see it as the perfect place to move right in! Ann also points out that it is important to understand that staging isn't just bringing furniture and accessories into a home. It is about strategically using these items to enhance the features of the home both in pictures and in the home the buyers tour. Bev also reminds us that staging a home also includes the exterior – curb appeal is huge! The front of the house is usually the first image buyers see online and the very first thing they see why they drive by your home. Below, you can find a list of suggestions from Ann and Bev on ways you can get a head-start on properly staging your home.
Once staged, homes spend an average of 73% less time on the market and 81% of home buyers say that home staging made it easier to visualize the property as their future home. More importantly, staging pays for itself! In a 2018 HSR survey of over 4,200 homes, 85% of the staged homes sold for 6-25% more than the un-staged homes. 68% of the staged homes sold for at least 9% more than the un-staged homes. At Team Hensley Real Estate, we know that hiring a professional home stager for our sellers is crucial. For all of our sellers, we pay for a one-hour consultation with a professional stager. For our vacant homes, we almost always recommend the seller pay a stager to bring in their own furniture to perform what we call a "vacant stage". Below, you can even see a before-and-after video on one of our current homes for sale where Johnathan Miller, from JSquared Interior Staging & Design, worked his magic and Rene Scott, from Tour Virginia Homes, professionally photographed and took video of the home. If you are interested in learning more about the staging process or how you can get started on preparing to sell your home, just give us a call. We'd love to meet with you for a free consultation on what your home is currently worth and what it could be worth after utilizing the power of home staging.
Get a head start on having your home show ready:
Clean, clean, clean! You would never sell a car without detailing it or go on a job interview in an old suit and no shower. A thorough cleaning including baseboards, light fixtures, ceiling fans. Ann Pershing says to clean like your mother-in-law is coming to visit for the first time!
Paint - keep colors neutral. Ann Pershing says to "let the buyer pick the color they want". The investment in a professional paint job will always pay off in the way your home presents to the market.
Take the personal out of your home (family photos, religious symbols, etc.) but not the personality. Make your home warm and inviting so buyers can imagine themselves living there.
Bev Bruster says to maintain the exterior of your home! Mulch the flower beds, mow the grass, give the shutters and front door a fresh coat of paint, etc. If the outside of your home looks fresh, people will think the inside looks fresh too.